www.echucacaravan.com.au
Kipor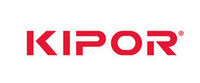 The Kipor group of companies was founded in 1998, and has enjoyed significant product acceptance and market development during the past 12 years. Today we export to over 130 countries around the world.
With over 2000 employees and manufacturing facilities of 300,000 square metres we are committed to product quality and service to our customers.
When you think power – think Kipor.
Here in Australia our range of power products are distributed by
Primus Australia Pty. Ltd.