www.echucacaravan.com.au
Happy Bowl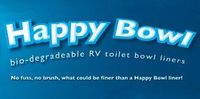 My name is Ron and I have been a volunteer for the National Park Service for many years. After years of tent camping we moved on to an RV. Boy, it was so nice to be able to "go" at night without trekking through the woods! The trouble was that no matter how careful I was, I always had to spend time using the toilet brush.
It took me nearly three years of experimenting and lots of testing in private! Finally I found the answer. I made a cone out of a special paper that worked perfectly for the RV, I placed it in the bowl and all my problems flushed clean away!

Not only was the bowl always clean, but only clean paper ever touched the valve. So no more jammed or fouled valves either!