www.echucacaravan.com.au
Haigh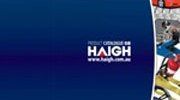 As Australia's largest supplier of automotive accessories we have nearly 40 years experience as a manufacturer, importer, exporter and wholesaler.
The experience we have gained and our philosophy of providing a "one-stop" shopping experience give us the edge over our competition. We only source from the top suppliers, both here and overseas and we enjoy sales at all levels within the wholesale and retail sectors. From the smallest independent through to the mass merchants, everyone can benefit from our principles of competitive pricing, superior customer service and broad product range.
We are proud of our position as market leader. Our standing in the industry is recognition of our commitment to excellent customer service which is deeply rooted in the company's history. We will continue to welcome the challenges that lay ahead and along the way we hope our effors will assist you in achieving your own personal sales objectives.

Our modern Head Office & warehouse facilities are located in Darra, a Brisbane suburb in Queensland . We also have warehouse facilities in Perth, WA.
We have a dedicated purchasing department with enormous experience in importing product for the Australian automotive aftermarket and we source products from many countries right across the globe, including Asia, Europe, New Zealand & Australia. We also export to several markets in Europe and throughout Australasia. We have State based Sales Managers right across Australia offering customers a truly national approach to customer service.
Haigh is a truly national company, wholly Australian owned and operated.