www.echucacaravan.com.au
Excalibur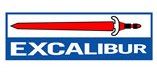 With increasing interest in home improvement and DIY projects, we offer a range of products to protect the safety of individuals and families - 'protecting life, assets and productivity'.
The Excalibur™ range of products incorporates a range of electrical items and accessories for safety; protecting electrical equipment, safeguarding human life as well as offering easy to use and convenient product solutions for home, office and workshop environments.
With stringent quality control processes, we ensure only safe and reliable products reach our end user, giving all our customers peace of mind.