www.echucacaravan.com.au
B.E.S.T Water Filters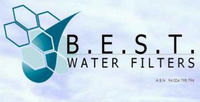 Born into the Hopgood Plumbers' family, which was established on the Gold Coast (Australia), Colin Hopgood became part of a third generation of plumbers. During his plumbing apprenticeship in the 1970's, he saw an increased amount of enquiries for filtration systems. However, the knowledge and truth about how filters worked seemed to be a bit scarce. The mere fact that a water filter was rated to treat 20,000 litres, yet had to be replaced every 6 months after only 2000 litres had gone through it, led Colin to explore and discover the reasons behind this and what health complications were present with basic filter systems. This was the start of his passion (or obsession - if you wish), with water filters.
The start of the 1990's saw us place our first ad in the yellow pages for water filtration. At that stage there were only 2 other businesses listed. Within a couple of years, there were well over 35 new businesses. This was also around the period where we were introduced to the SilverSafe technology. By this time, we had a shop at Southport. In 1996, we launched our first website, believed to be one of the first water filter businesses in Australia to do so. After a few years, being from a technical background and not into high pressure sales, we decided to let the other businesses fight it out between themselves and handed the shop over to one of our agents. This enabled us to concentrate on what we do best. (Note: Colin installed his first filter in a caravan in the 1970's.)
Now-
During those earlier years, what we were telling customers about bacteria breeding inside the filters was discouraged by competing businesses. Today, I am please we persisted as it is now common knowledge with customers, and thanks to the internet our findings/beliefs are freely available to the world. After leaving the shop, we continued with the development of the SilverSafe technology, which we now own. We discovered a more pressing need for this technology in the RV industry because basic domestic units were being used. This is a major problem as domestic units are not to be used on untreated water. Today, our core business is carried out in the RV market, but we continue to supply the domestic market when necessary. We now have the largest range of RV water filters.
Again, we are witnessing the RV industry going through what happened in the domestic market some 20 years ago. A lot of people think it is a good way to make an easy dollar by supply water filters that aren't truly RV designed. Simply by putting a couple of hose fittings on a standard unit or an RV sticker - doesn't make them safe. Today Colin, Natali and their 2 children travel virtually full time around the country doing seminars at various caravan, motorhome and RV events. You'll often see them at all the major caravan shows and some regional ones. Today, we are still a Gold Coast business - a thread of that which started here some 50 years ago. Our manufacturing is all done in S.E. Queensland and is all Australian made, designed and owned.