www.echucacaravan.com.au
4x4 Equip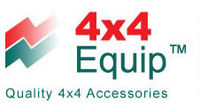 4x4 Equip Pty Ltd is based in Melbourne, Australia. The business has grown from its humble beginnings producing Axe & Shovel Holders for friends and 4x4 Club members, into a dynamic company which manufactures and supplies many unique 4x4 and camping accessories.
The combination of local design and engineering expertise and camping / 4WDriving experience ensures you end up with innovative, high quality products that are extremely functional and well suited to our harsh Australian outback conditions!
The company utilises CAD and maintains a full workshop set-up to design and manufacture unique, high quality products.